Why use the AdMob ID generated by the MAS dashboard and not your AdMob ID?
The AdMob ID on the MAS Dashboard is generated by Yodo1's AdMob account. The MAS includes AdMob, and MAS can only successfully monetize with Yodo1's AdMob ID generated for YOUR specific game in the MAS Dashboard.
Where can you find the AdMob ID in the MAS dashboard?
First, visit 
https://mas.yodo1.com/app/list
, making sure you are logged in.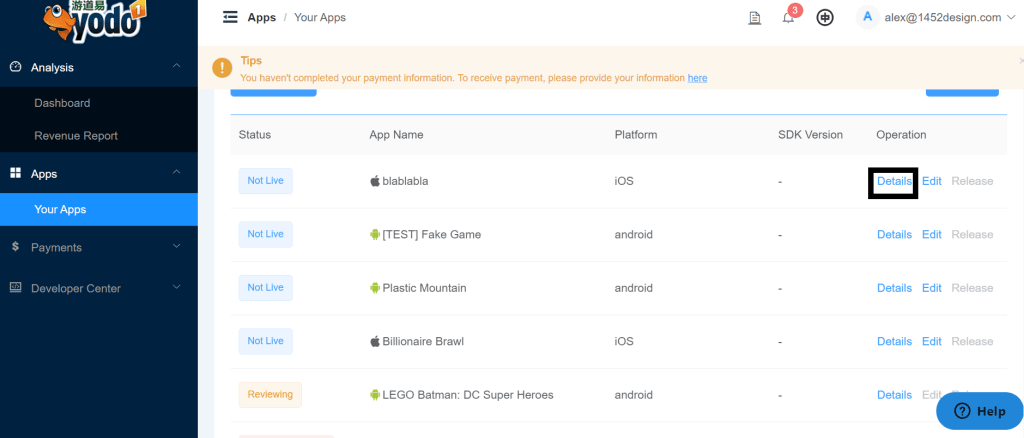 Second, click on Details to get access to the page with your AdMob ID for your given game. You will also find your app key for the game there.

Finally, copy the AdMob App ID and the Appkey into the configuration window for both iOS and Android.
What versions of Unity are compatible with MAS?
MAS supports Unity 2017.4.38f1+ LTS version, 2018.4.4f1+ LTS version, 2019.1.7f1+ LTS version, all versions from 2020 and above. Please make sure you're using a compatible version.
Cocoapods is a dependency manager for iOS. It is responsible for downloading and  managing all third party ad networks included in MAS during the build phase. If you want more information, check 
this page.
How much will MAS increase the size of my APK or IPA?
On average, MAS for Unity increases the file size of your game by 8-10 MB.